Fire Cement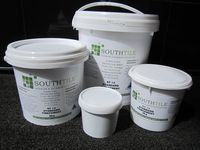 We also supply a general purpose, medium-duty fire cement (known as ST13) to compliment our firebrick range and it is available in either 1kg, 3kg, 8kg and 20kg containers.
This product is pre-mixed and should be used sparingly with 1mm to 2mm joints. The bricks must be laid dry and heated up slowly.
20kg bucket. Priced from $118.35
8kg bucket. Priced from $77.35
4kg bucket. Priced from $45.05
1kg pottle. Priced from $20.55 (ideal size for the home handy man)
Medium Duty General Purpose Refractory Mortar. Max service temp 1300 deg.C. Less prone to cracking than other Refractory Mortars or Firecement's.

BEWARE THE IMPOSTERS: Fire Cement with labels that are different from the one's pictured above are NOT made by Southtile. NB: Other labels will have Southtile on them but with a different Logo. If you are in doubt please phone our office.